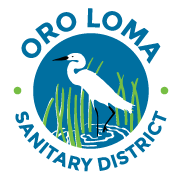 Welcome to the OLSD Engineering Web Server
The District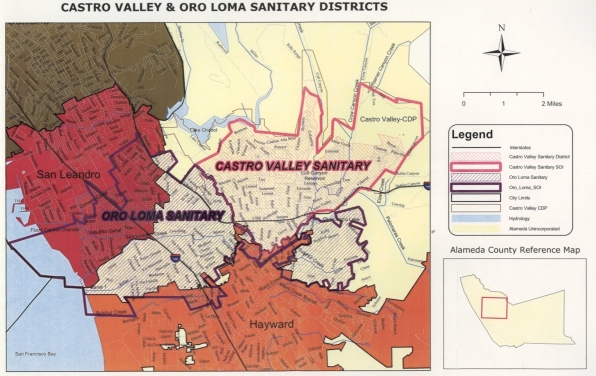 The Oro Loma Sanitary District (OLSD) comprises of parts of San Leandro, parts of Hayward, parts of Castro Valley, and San Lorenzo.
District Standards
To download a current copy of the current District Standards,
click here
(or for slower connections, download it from our FTP link below).
District Base Maps
Please read this entire description before proceeding to view the maps.
Our Base Maps are on our FTP (file transfer) site. The Base Maps are 8.5x11 inch PDFs, you will need Adobe Acrobat Reader. To navigate through the base maps, open the file
Street Index.pdf
; it is a listing of all the streets in our District. The first column is the street name in alphabetical order, the second column is the Base Map sheet number, the third column is the address range for that Base Map sheet, and the fourth column is the district that serves those address. Only rows with "OLSD" in the fourth column are served by the Oro Loma Sanitary District. On the FTP site the first 4 digits of the Base Map name is the sheet number.
The standards and the base maps are in Adobe PDF format. You will need Adobe Acrobat Reader to read the standards, and to access other documents on this website. You can download Acrobat Reader from the following link:

Projects Available for Bid

For a current list of projects, or to download project documents,

click here

. You will be required to register with our projects database in order to view and download bid documents.

Online Permit System

This section of the website is for the use of contractors and homeowners who require a permit for repair of a lateral sewer connection to the Oro Loma Sanitary District collection system. There are two ways to obtain a lateral repair permit:

1) Request and pay for a permit online at this website. You must first call our offices at 510-276-4700 to obtain a password to the website. You must provide a valid email address to be used as your login name, and you will be assigned a password over the phone. A valid credit card is required for payment, which is made through the Authorize.net secure payment service. Once the required information is entered and the credit card payment is processed, the approved permit will be displayed in your Internet browser as an Adobe PDF file. You must have Adobe Acrobat Reader installed in order to view and print the permit. If you do not already have Acrobat Reader on your computer, you can download and install it here.

2) Visit the Oro Loma Sanitary District office, located at 2655 Grant Avenue, San Lorenzo, CA 94580 (map), between the hours of 8:00am to 12:00 noon, or 1:00pm to 5:00pm, Monday through Friday, excluding normal Federal holidays. You can pay for a repair permit by check or credit card at the Oro Loma office.

Note: you must be a licensed contractor, or use a licensed contractor to perform the repair, if the work will require (a) exposing, repairing, or connecting to the sewer main in the street; (b) replacement of a "Y"-connector; or (c) replacement of the entire lateral line from the house to the street. If the work is only from the house to the sidewalk, the homeowner may perform the work themselves. If you have any question as to whether a licensed contractor is required, please call our Engineering Department at 510-276-4700 for assistance.

Please note that the online permit system is compatible only with Internet Explorer, and cannot be used wih Firefox or other browsers.

To begin, enter your email address and your assigned password below:


Forgotten your password? Enter your email address above and leave the password blank to continue